Go Share This Exclusive Information!
Early History Of Gambling In Canada
We'd not consider in details that fact that the first traces of gambling on the territory of modern Canada was marked by 6000 B.C. The more important data is the year of 1497. That was the date when an Italian navigator, John Cabot, brought some primitive games of chance to the area that by 1867 had been known as Canada.
That time it was pretty known that the chance games served for psychological relief and for the development of the mental capacities. In reality, it is not that correct. In any case, such approach to gambling served as a perfect trigger to let it spread.
Initially, those times, gambling was absolutely different from what we now call it. The main type of game was to use the sticks and pebbles. The purpose of that activity was to have fun or witness the luck. In the course of time, of course, humanity got it that one can earn some dough. Or... lose it.
Yes, it was the early stage of Canadian gambling development. And it was one of the most significant stages, since it gave rise to the immeasurable diversity of the gambling activities that we can enjoy at present.
Sport-Related Gambling
Officially, the year of 1892 is possible to refer to the beginning of legal gambling in Canada. It is so, since,
The first bans and legal regulations related to gambling emerged;
Horse racing became the first legal activity to bet on;
Criminal Code of Canada released that year clearly indicated all rules and restrictions as for horse racing betting and other activities.
Probably, these facts signify that horse racing has always been one of the most favorite activities to bet. Of course, one can say that slot machines are also popular. And we'd not even argue. Nevertheless, horse racing-related gambling is primary.
Lotteries: A Short History
1976 is known not only for being a year of holding Olympic Games but also the start of lottery tickets being sold legally and officially.
The same year, Loto-Canada Inc, a federal crown corporation was run. It was responsible for issuing the lottery tickets, distribution and control. Approximately the same year, the Société des loteries et courses du Québec was organized to power the lottery activities in the province of Quebec.
In 1976, four provinces—New Brunswick, Newfoundland, Nova Scotia, and PEI—joined and ran the Atlantic Lottery Corp.
The organization named Interprovincial Lottery Corporation united ten more provinces. As a result, three official lottery schemes were designed and intomitted:
Loto 6/49;
Super-Loto; and
The Provincial.
In such a way, the long way was taken by lottery activities in Canada. But what about now? Is it still that popular?
Currently the sales of lottery tickets are immense all over the country. Notwithstanding, some provinces are real leaders. Just take a look at the table and graph below to see the volumes of lottery tickets' sells in Canada by the end of 2019.
| Province | Sales Revenues |
| --- | --- |
| Ontario | CA$4 167,53 |
| British Columbia | CA$1 286,02 |
| Quebec | CA$955,74 |
| Alberta | CA$946,23 |
| Newf. & Lab. | CA$283,10 |
| Manitoba | CA$249,54 |
| Nova Scotia | CA$243,96 |
| Sasketchewan | CA$226,00 |
| New Brunswick | CA$194,23 |
| Prince Edward Island | CA$38,82 |
| NW Territories | CA$20,01 |
As evident, the leader of the sells is Ontario with the sums exceeding the least sales of NW Territories by 200%. We can exhibit the same data in the percentage correlation, so that it would be even more comfortable for you. have a look at the graph below.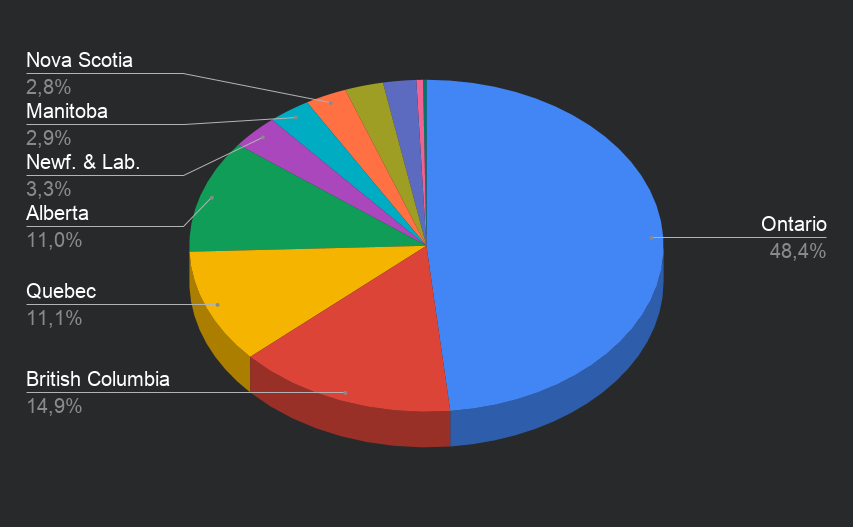 As a result, it is evident that Ontario, British Columbia, and Quebec are among the most lottery-loving provinces. Is this the same with the land-based casinos and other gambling activities in Canada? Let's check it out!
The First Land-Based Casinos
The first Canadian terrestrial casino in Winnipeg is known to be opened back in 1989. The second official casino established was in Montreal, 4 years later, in 1993. In successive years, the casinos were also opened in Manitoba, Québec, Ontario, Nova Scotia, and Saskatchewan.
Of course, racetracks and lotteries have always been popular in the country; nevertheless, with the emergence of the VLTs in the land-based casinos, it all became a real sound industry!
Nowadays, the number of terrestrial casinos in Canada being legal and licenced is estimated at 100+ facilities. What's more, some of the casino-based activities, like, say, slot machines, are also available outside the casinos. For example, at hotels or resorts.
Slot Machines
As evident from the previous section, the development and distribution of slot machines, or fruit machines, all over Canada was followed by the spread of the terrestrial casinos.
One can refer the slot activities ranked third by popularity among Canadians. Billions of Canadian dollars are generated from the slot machines in the land-based casinos.
Currently, there is no acute need to attend a land-based casino to gamble. You can easily use online casinos to play any kind of slots!
The Middle Of The Road In Canadian Gambling
As you could see it from the previous text, the Canadians are not equally in love with gambling when it comes to geolocation. Some of the provinces are extremely actively involved in games at casinos. While the others are less enthusiastic. So, where is the center of gambling in this country? Which province or city is to be considered to be the 'capital' of gambling in Canada?
In the course of time, the long history of Canadian gambling wrought all favorable conditions to spread casino activities. In compliance with the stats we provided before, it is evident that Ontario is the main province to have the biggest number of the gambling facilities. Its capital, Ottawa, as a consequence, can be also referred to the capital city of Canadian gambling.
What's more, in accordance with Ottawa Life Magazine, there are two more popular gambling areas and destinations to have the most exciting and diverse experiences of playing at a casino. These are two more provinces/cities:
Toronto, Ontario;
Vancouver, British Columbia.
These two destinations are perfect for those who want to "go for a full-on gambling extravaganza"!
Hence, whenever you're in one of these cities, you can count for the truly varied casino activities and facilities! The only rival can be Las Vegas in the USA. But who knows which of them would be a winner!
Gambling Regulation
There are separate regulating bodies in each of the Canadian provinces to take the gambling over. For example, in Alberta, this organization is known to bear the name of Alberta Gaming And Liquor Commision. In Ontario, Alcohol And Gaming Commision Of Ontario rules the gambling activities in the province.
There are also the licensing bodies that are supposed to issue the licence and serve as a proof that a casino is legal. In the course of gambling history, the following commissions and bodies were run to license the casinos in Canada:
Antigua and Barbuda Financial Services Regulatory Commission;
Alderney Gambling Control Commission
Gibraltar Regulatory Authority;
Kahnawake Gaming Commission; and
UK Gambling Commission.
Hence, if you prefer gambling at a licenced casino, you should always check if it possesses a special licence. Otherwise, you will break the law and would be exposed to scam.
Taxation
In majority of cases, all Canadian population is not to pay any taxes for their winnings. It is especially serious when it comes to the lotteries: all winnings from the lottery-related activities are never taxable in Canada. Herein, it's particularly crucial to understand that the lotteries are considered as the 50:50 chance games. In other words, all 50:50 gambling activities are legally lotteries.
Along with this, the Canada Revenue Agency (CRA) points to the fact that the bookmakers (no matter which gambling activities they are in) are supposed to pay taxes.
Nevertheless, there are some taxable activities in the gambling industry in Canada. Yes, currently, in accordance with the Canadian Income Tax Act, all casino-related winnings of Canadians are taxable.
Let's consider the taxation for the winnings in detail from the point of view of its stage in history of gambling in Canada.
For Canadian Gamblers Playing In Canada
As stated, in consistency with the paragraph 40(2)(f) of the Canadian Income Tax Act, "a taxpayer's gain or loss from the disposition of a chance to win a prize or bet, or a right to receive an amount as a prize or as winnings on a bet, in connection with a lottery scheme or a pool system of betting referred to in section 205 of the Criminal Code is nil."
In other words, gambling winnings are not taxable, and gambling losses are not deductible. Gambling winnings are considered "windfalls" and as such are exempt from income tax.
It is so unless a gambler is not acclaimed to be a professional one. In other words, in Canada, if a gambler is known to be professional, their income from winnings in casinos is referred to business income. Therefore, it is taxable in the way similar to the business activities.
For Canadian Gamblers Playing Outside Canada
According to the Income Tax Act mentioned before, if Canadian residents gamble in any outside casino, they do not pay any taxes from their winnings to the Canadian budget. Nevertheless, if, for instance, Canadian gamble in the USA, they are supposed to pay 30% tax of their winning to the US Internal Revenue Service (IRS).
In short for this section: Canadians' winnings from gambling are not taxable until they're considered professional and business.
Final Thoughts
In fact, there are numerous advantages of gambling in Canada. Firstly, you are not supposed to be taxed in case if you won a great prize from a casino or in a lottery. Secondly, the country monitors the casinos' activities, so that you can always count for the credibility and legality of the venues. Thirdly, there are countless online casinos being legal and absolutely permitted in Canada.
Yes, Canada and almost all of its provinces and territories are an incredible destination to master your gambling skills! We'd even say that Canada is a the land of fortune! Maybe, that's because the history of gambling was quite complicated in the country, and now, it is properly shaped and regulated!